By RICCARDO BIANCHINI – 2021-11-10


Photo courtesy of the Japan Pavilion at EXPO 2020 Dubai.
EXPO 2020 Dubai – An architectural journey through the best pavilion
Delayed by one year because of the pandemic, EXPO 2020 Dubai, which takes place in the United Arab Emirates from October 1, 2021, through March 31, 2022,  is, among many other things, also a unique collection of built architecture; I briefly present in this article the most architecturally interesting pavilions at Expo Dubai, in my view.
Special pavilions
Alif -The Mobility Pavilion |  Foster + Partners
Designed by Foster + Partners, Alif is a trefoil-shaped building aimed to present the history of transportation as well as the most innovative forms of mobility by the means of undulating tracks and demonstration areas for the latest technological innovation, a 500-seat amphitheater, and a series of galleries housed in the three "petals" of the pavilion.


Alif -The Mobility Pavilion; photo courtesy of Foster + Partners.
Terra – The Sustainability Pavilion | Grimshaw Architects
Designed by British firm Grimshaw Architects and themed on sustainability, the organizer-owned Sustainability Pavilion features a gigantic metal canopy encircled by smaller "photovoltaic trees",  gardens, pathways, and 6,000 square meters of underground gallery space. The pavilion is self-sufficient in terms of energy – produced by 0,6 hectares of monocrystalline photovoltaic panels installed on the canopies – and freshwater, captured from humid air and by collecting rainwater; and is cooled and ventilated naturally to achieve LEED Platinum certification.


Terra – The Sustainability Pavilion; photos courtesy of Grimshaw Architects.
Country pavilions
Austria | Architect: Querkraft
Designed by Vienna-based Querkraft Architects, the 1,600-sqm Austrian pavilion consists of 38 intersecting cones, made of locally sourced materials,  that exploit natural ventilation to save 75% of the energy needed to cool and ventilate a building of comparable size.


The Austrian Pavilion at EXPO 2020 Dubai; photos © www.andreas keller-fotografie.de courtesy of Querkraft.
Finland | Architect: JKMM
The Finnish pavilion has been conceived by Helsinki-based architectural office JKMM to bring the nature of Finland to Dubai; externally, it resembles an Arabian tent, while its interior is characterized by the warm color and soft tactility of the Nordic wood.


The Finnish Pavilion, photos © Marc Goodwin courtesy of JKMM.
France | Atelier Perez Prado + Celnikier & Grabli Architectes
Designed by Marseille-based Atelier Perez Prado and Paris-based Celnikier & Grabli Architectes, the French Pavilion is an imposing construction whose metal skin transforms constantly while reflecting the changing conditions of light of the surrounding environment.


The French Pavilion, photos Dany Eid, Farel Bisotto courtesy of Celnikier & Grabli Architectes.
Japan | Architect: Yuko Nagayama
Designed by Yuko Nagayama, the Pavilion of Japan features an iconic facade whose design combines traditional Arabesque patterns with Asanoha Japanese patterns and origami-inspired shapes to symbolize a long history of cultural exchange between Japan and the Middle East. Sustainability has been achieved by implementing natural cooling, water mirrors for evaporative cooling and indirect lighting, and environmentally-friendly technical systems.


The Japan Pavilion; photos Courtesy of the Japan Pavilion at the 2020 Dubai International Expo / Yuko Nagayama Associates.
Luxembourg | Architect: Metaform
Designed by Metaform Architectes, the small Pavilion of Luxembourg is shaped like a Möbius strip to symbolize the circular economy and blur the limit between interior and exterior, since the single face of the band is, at the same time, a floor, a wall, and a ceiling.


The Pavilion of Luxembourg at EXPO 2020 Dubai; photo courtesy of Metaform Architects.
Morocco | Architect: Oualalou + Choi
Designed by Paris and Casablanca-based Oualalou + Choi Architectes and inspired by Moroccan vernacular rammed-earth architecture, the 4615-square-meter Pavilion of Morocco contains exhibition spaces, a restaurant, a tea room, a street food area, a shop, an event space, an office space, and a lounge, connected by a continuous "ramped street" curling around a visually impressive inner courtyard.


The Morocco Pavilion, photos courtesy Oualalou + Choi.
The Netherlands | V8 Architects
Designed by Rotterdam-based V8 Architects, the Dutch Pavilion is not a building in the traditional sense but a "harvesting machine" that is able to harvest three crucial elements – water, energy, and food – and bring them together in a biotope.


The Netherlands Pavilion at EXPO 2020 Dubai; photos Jeroen Musch courtesy of V8 Architects.
Poland | Architect: WXCA
Designed by Warsaw-based architectural office WXCA, the 2,000-square-meter Polish Pavilion is a tree-like modular wooden structure, featuring a giant kinetic sculpture that evokes the yearly large-scale migration of birds from Poland to the Arab world.


The Polish Pavilion, designed by WXCA Architects; photos courtesy of PAIH.
Saudi Arabia | Boris Micka Associates
Designed by Seville-based architect Boris Micka, the 13,000-sqm Pavilion of the Kingdom of Saudi Arabia is a daring cantilevered structure that integrates the world's largest audiovisual system.


The Saudi Arabia Pavilion; images courtesy of Boris Micka Associates.
Spain | Architect: Amann-Cánovas-Maruri
Designed by Madrid-based architecture firm Amann-Cánovas-Maruri, the 5,800-square-meter / 62,430-square-foot pavilion of Spain is topped by a sequence of colored cones whose design improves air circulation inside the building and natural cooling in the hot desert climate of the Emirates.


The Spanish pavilion, exterior and interior views; courtesy of  ExpoSpain 2020.
Sweden | Architect: Alessandro Ripellino
Co-created through an international collaboration between Alessandro Ripellino Arkitekter, Studio Adrien Gardère, and Luigi Pardo Architetti, the Swedish Pavilion is a truly impressive wooden construction that, through the metaphor of a forest, symbolizes the ideals of sustainability and mutual collaboration.


The Swedish Pavilion; photo Johannes Edberg courtesy of Ripellino Archaetypes / Reflex Arkitekter.
United Arab Emirates | Santiago Calatrava
For the United Arab Emirates, Spanish starchitect Santiago Calatrava designed a 15,000- square-meter pavilion whose roof consists of 28 wings that rotate and open to make the building look like "a falcon in flight"; made of carbon fiber, the wings also protect the photovoltaic panels installed on the roof from sandstorms and heavy rain.


The UAE Pavilion, photos courtesy of Santiago Calatrava.
The United Kingdom | Architect: Es Devlin
Inspired by one of Stephen Hawking's final projects and devised by artist and designer Es Devlin, the UK Pavilion is a 20-meter-high structure made of Cross Laminated Timber that resembles a gigantic conical musical instrument. Covered by LED lights, the facade of the pavilion features a "collective message", displayed in English and Arabic, based on words submitted by the visitors.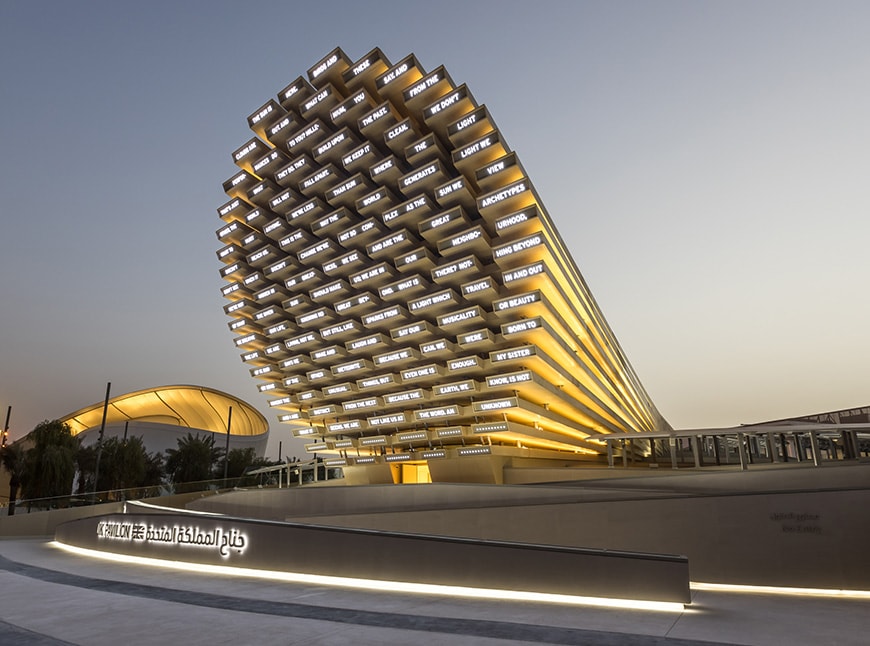 The UK Pavilion at EXPO 2020 Dubai, photos Alin Constantin Photography.
copyright Inexhibit 2022 – ISSN: 2283-5474