barcelona-based studios external reference and onionlab design the exhibition tour of the spain pavilion at expo dubai 2020. the overall pavilion by amman, cánovas & maruri hosts the space which merges design, art, and technology to create a unique immersive experience. the exhibition comprises a 3D printed artificial forest capable of producing oxygen and a tree that reacts to the sustainable habits of the public.

with the motto 'intelligence for life,' the teams dedicate the interactive exhibition to sustainability and collective intelligence. it details some of the most relevant contributions of spanish culture to the world and highlights spain's relationship with arab culture. the 'bosque de la inteligencia,' (the intelligence forest), marks an artificial 3D printed forest that immerses visitors in an extraordinary world where digital and physical dimensions produce unique experiences.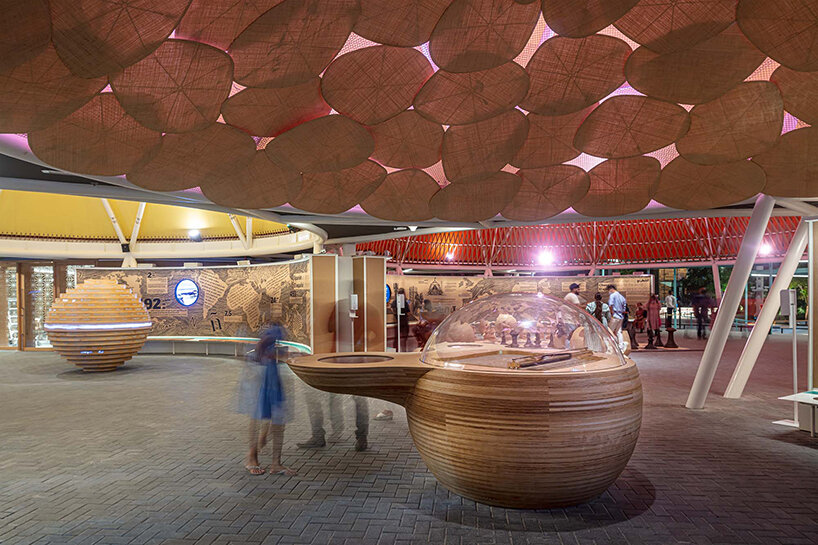 images courtesy of external reference / onionab



the building of the spain pavilion, for which external reference and onionlab have developed the exhibition route, is designed by the architecture studio amman, cánovas & maruri and located in the sustainability district at expo 2020 dubai. instantly eye catching due to its series of prominent truncated cones that rise up above the landscape and evoke the feel of a traditional town square, the pavilion is constructed from reusable materials including wood, iron and fabric, the conical shape aids an increase in air flow therefore modulating the temperature of the public space and providing an eco-friendly way for visitors to keep cool.

two of the cones consist of two floors to make up the pavilion itself, with the underground positioning of its exhibition area also helping to naturally reduce temperatures. both the pavilion and the exhibition within it have been built using the principles of the circular economy in that all of its material can be recycled or else used entirely or disassembled for use elsewhere.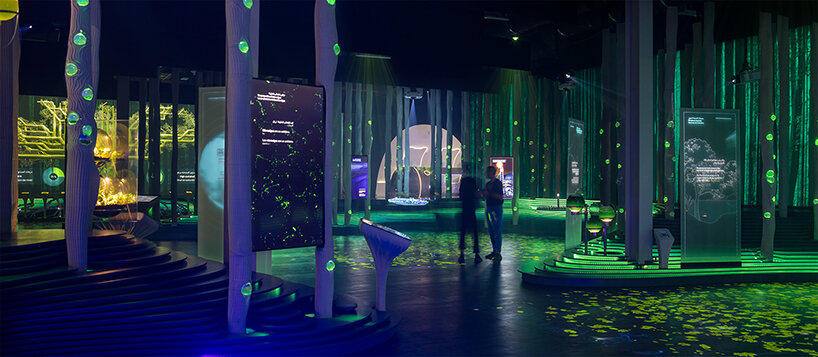 on the lower floor of the spain pavilion at expo 2020 dubai is the 'bosque de la inteligencia,' or 'intelligence forest.' the space immerses visitors in an extraordinary world where digital and physical dimensions produce unique experiences. the trees are built from sustainable bioplastic polymer made with corn dextrose (sugar), mixed with PURE.TECH, a natural mineral compound that is able to capture and mineralize some of the main greenhouse gases and pollutants in our planet's atmosphere, including CO2, nitrogen oxides (NOx) and volatile organic compounds (VOC).

this fabricated techno landscape is capable of producing oxygen and food through photosynthesis thanks to a series of photo-bioreactors containing microalgae, such as spirulina and chlorella, that have been designed for the pavilion. these micro-algae increase oxygen levels, reduce global warming, and can prevent the future consequences of climate change as well as producing more oxygen than other plants and are used for the production of biofuels and protein-rich foods.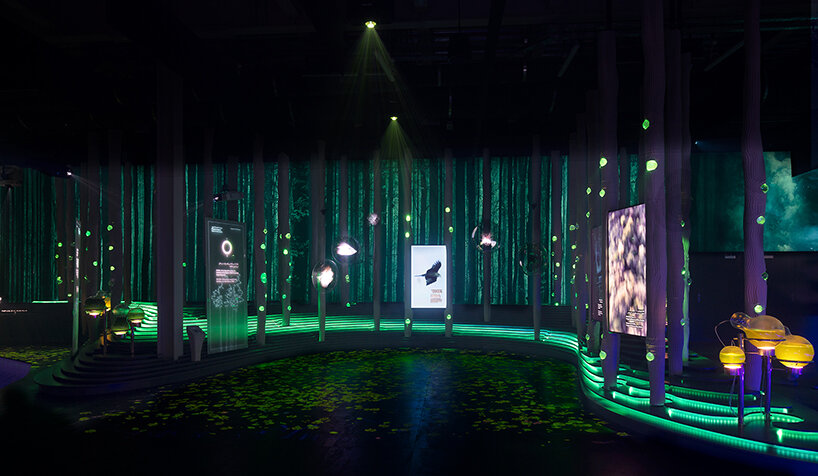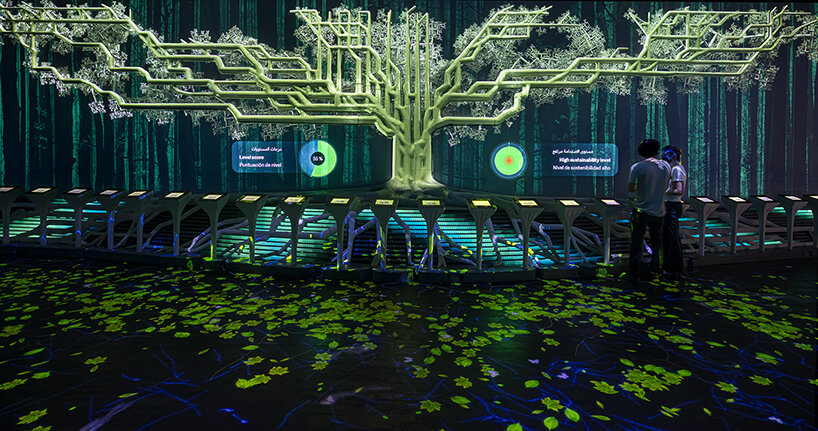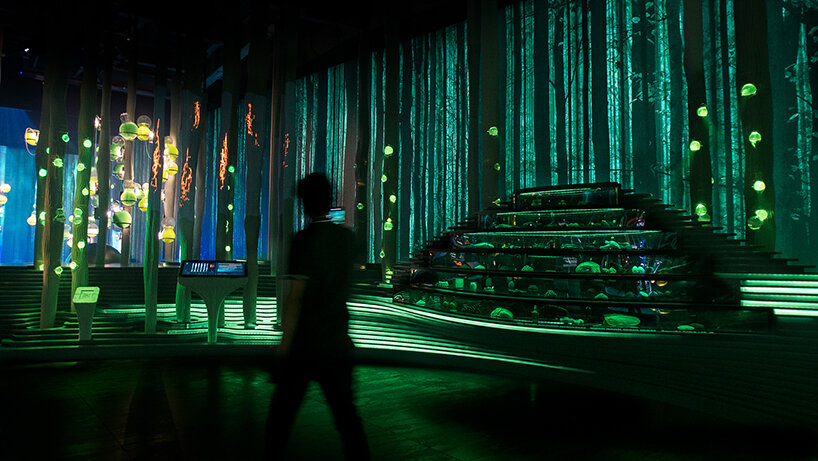 project info:

project title: spain pavilion
location: expo 2020 dubai
pavilion architect: amman, cánovas & maruri
exhibition architects: external reference and onionlab
client: AC/E (acción cultural española)
3D manufacturing: la máquina by noumena, technical partner WASP, and LOWPOLY
3D material technology: PURE.TECH by RESHAPE and PRIMLAB
project assembly: oxido taller
have something to add? share your thoughts in our comments section below.
all comments are reviewed for the purposes of moderation before publishing.
LOG IN

a diverse digital database that acts as a valuable guide in gaining insight and information about a product directly from the manufacturer, and serves as a rich reference point in developing a project or scheme.